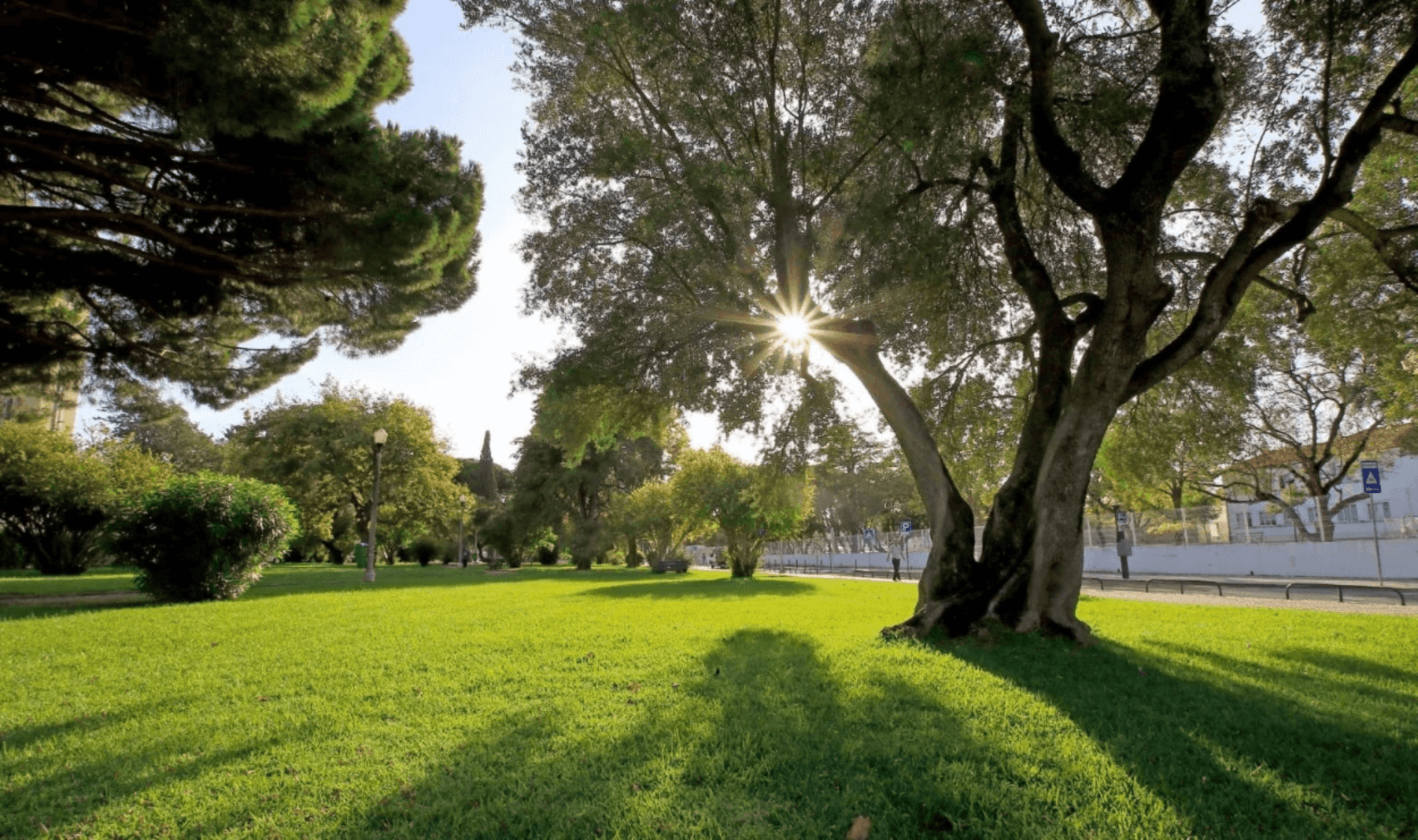 We continue exploring the best of Olivais Neighborhood and everything it offers to its community and visitors. This time, the focus is on green spaces.
Besides housing, the surrounding environment must be rich in leisure activities and spaces where we can walk, run, or simply rest. So, what does Olivais Neighborhood have to offer?
We will see that besides being an oasis of tranquillity for the older ones, there are gardens, parks, and great spaces for children. If you have a four-legged friend, there will also be plenty of space. Last but not least, it is important to highlight that green spaces are beautiful, pleasant and invaluable for your health.
An oasis of tranquillity
Although located in the heart of the bustling capital, Olivais is an oasis of tranquillity where green is not forgotten. The neighbourhood has various gardens, parks and true sanctuaries where you can relax, play, or enjoy healthy physical activity.
These natural refuges offer inviting trails for hiking, idyllic spaces for picnics, and lively playgrounds for children. They are authentic lungs of the city, vital for their contribution to the resident's quality of life and their role in the community, hosting various events and festivals throughout the year. 
Benefits of green spaces for health 
In Olivais, with so many green spaces, you can surely enjoy the benefits of breathing fresh air and having shades to rest and escape the heat on sunnier days, among others. 
Air Quality:

It's well-known that trees and plants absorb carbon dioxide and release oxygen, which helps to purify the air.

Physical Activity:

These spaces encourage running, walking, cycling, and playing sports. Physical activity helps combat cardiovascular diseases, obesity, and diabetes.

Mental Health:

Contact with nature reduces stress and anxiety and can help in times of depression. Improving mood, reducing feelings of fatigue, and improving concentration are other effects that can be noticed by spending time in nature. According to the largest global organization dedicated to tree planting, the Arbor Day Foundation, "urban residents are 20% more likely to suffer from depression and 21% more likely to suffer from anxiety disorders".

Immune System Boost:

Some studies point to the likelihood that contact with nature is beneficial for the immune system, aiding in the prevention of diseases.

Reduction of Heat Island Effect and Noise:

Green spaces can help reduce heat, moderating temperatures in urban areas. Through denser vegetation, more barriers to the sun are created, generating more shade. Additionally, the sound of cars passing in the city is muffled by this barrier: less heat and noise for those strolling in greener areas with more vegetation.

Social Connection:

The greener spaces are conducive to socializing and spending good times with our loved ones.

Healthy Child Development:

For the youngest, these zones are ideal for cognitive and motor development, with races, games, and playful activities that favour healthy individual growth.
Silence Valley Park & Olivais Dog Park 
A clear example of these healthy green areas is Silence Valley Park. Covering an area of about 8 hectares, this park offers a vast number of trees, where imposing white and black poplars stand out. Its central lawn, flanked by well-maintained paths, is the perfect stage for running and walking. And don't forget the bike paths, which extend to the Oriente Station, Parque das Nações, ideal for teaching the little ones.
Integrated into the Olivais revitalization plan, the park reflects the modernist movement to bring more green spaces to the urban environment, thus promoting a better quality of life for the residents.
The park also has an inviting children's area, tables ready to host your picnics, equipment for physical exercise, and even a small snack bar for a well-deserved rest.
The Dog Park complements the offerings within the Silence Valley Park. Equipped with drinking fountains, obstacles, trash bag points, and appropriate fencing, it enhances your canine companion's health.
Olivais Educational Farm
The Olivais Educational Farm is an excellent example of a green area – this space, with various animals and agricultural activities, allows children to learn about nature and rural life in a fun and highly interactive environment. This farm offers:
Agricultural experience;

Educational activities;

Guided tours;

Workshops;

Gardens.
You can go with your family and see some animals, like donkeys, horses, goats, and cows, and possibly interact with these species for the first time. Knowledge is power, and seeing how life on a farm enriches our view of the world. 
Events in Olivais 
The vibrant green spaces of Olivais Neighborhood provide a refuge from daily life and serve as dynamic community centres that host various events and festivals celebrating local culture and spirit. 
During the summer months, the gardens and parks of Olivais turn into stages where the craft fair unfolds. This annual event, enjoyed by residents and visitors, provides a showcase for local artisans to display and sell their creations, such as traditional ceramics, jewellery, and woodworking. It's a must-see opportunity to appreciate the richness of Portuguese creativity and tradition while enjoying the tranquillity and natural beauty Olivais has to offer. 
Olivais also offers gymnastics programs targeted at the senior population, promoting a healthy and active lifestyle among residents. The "gymnastics +55" program, including "walking football", provides a fun and social way to stay fit, making the most of outdoor spaces. 
These events and activities are not just leisure moments but reflect the essence of community life in Olivais. Each green space is an invitation to celebration, learning, and socializing. With continuous promotion and investment in high-quality infrastructures, Olivais continues flourishing as a neighbourhood of choice for those seeking an enriching urban life surrounded by vibrant nature and culture. 
Olivais Neighborhood: richness beyond history 
This neighbourhood has the essential green spaces for your quality of life, inviting children, adults, and canine companions to live here with the utmost comfort and safety. From health benefits to picnics, through physical exercise, you'll find everything you need in this neighbourhood filled with green zones thoughtfully incorporated into the urban planning of 1960. 
We will have more updates in the upcoming articles about this historic neighbourhood in the heart of Lisbon but with the tranquillity and strong points of rural life.