The Olivais Neighborhood boasts a rich culture and offers services that attract families choosing to live in the area. Having schools, hospitals, and other amenities close to home is crucial, but equally important is having great restaurants where you can enjoy something different from the usual home-cooked meals.
Its proximity to Parque das Nações contributes to a wider range of gastronomic options. In this article, we explore dining options for those with discerning palates and a taste for the finer things in life.
Champ'Arte Bistro – Parque das Nações
Opened at the end of 2022, Champ'Arte Bistro has emerged as one of the latest additions to Lisbon's culinary scene. This venue promises a unique and elegant gastronomic journey, blending luxury with refined flavors, all set within a welcoming and inviting ambiance.
While the dishes are of high quality and made with exclusive ingredients, the selection of prestigious French champagnes elevates the tasting experience to an unparalleled level.
Cantinho do Avillez – Parque das Nações
If you know Cantinho do Chiado, you will recognize a similar concept at Parque das Nações, albeit with slight variations. Cantinho do Avillez, located in the city's eastern part, features captivating brick-toned decor designed by architect and designer Joana Astolfi.
The space spans two floors and includes a charming outdoor patio, characterized by salmon, terracotta, and green tones, complemented by straw, stone, and wood materials.
The menu features appetizers and standout dishes, such as peixinhos da horta (fried green beans), tuna tartare with Asian flavors, carabineiros shrimp from Algarve with Thai sauce, and shredded cod with loose "migas", poached egg, and explosive olives.
Rio de Prata – Parque das Nações
With a privileged view of the river, located in the Prata Riverside Village development, Rio de Prata perfectly melds two worlds. Besides its two spacious dining rooms and a menu that offers comfort to its patrons, it boasts a beautiful terrace with the river right within reach.
This is a versatile and cozy space, where attention to detail is paramount, offering flavors from Portuguese cuisine. It is perfect for a sunset cocktail with friends or a romantic dinner for two.
The menu offers a variety of shareable options, such as alheira sausage croquettes with pepper jam, beef carpaccio, as well as various fish and meat dishes like chef's cod and caramelized ribs. For a sweet touch, the menu includes desserts like pistachio mille-feuille with sorbet, and cheese tart with strawberry tree fruit tile. Vegetarian options are also available.
To accompany the gastronomic delights, Rio de Prata offers a selection of cocktails and a variety of wines from different regions of the country, all displayed in a glass wine cellar for all to see.
Fifty Seconds – Parque das Nações
Located at the top of the Myriad by SANA in the iconic Vasco da Gama Tower, Fifty Seconds is a Michelin-starred restaurant that offers a sophisticated and cosmopolitan dining experience. With exquisite dishes featuring flavors from around the world, the restaurant is a popular choice for those seeking high-quality cuisine in an exclusive setting.
The menu at Fifty Seconds includes notable dishes such as Red Mullet with crispy scales and Algarve shrimp, and sea crayfish with foie gras flavored with Armagnac. The location at the top of the tower provides a stunning view over Lisbon, making it an ideal spot for a special dinner or unique occasion.
Kuazi Sabor Oriental – Olivais
Kuaizi is more than just a restaurant where you can taste some of the best dishes with genuine Asian flavors; it also offers a pleasant and inviting atmosphere. Additionally, it provides the opportunity to purchase Asian products in its small grocery section.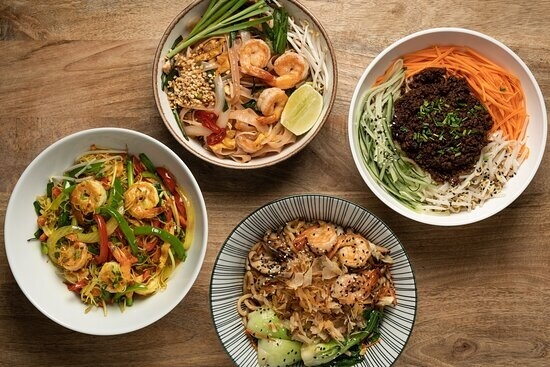 At the contemporary and vibrant Kuaizi Sabor Oriental, you will find the most iconic dishes from five Asian countries: China, Singapore, Japan, Thailand, and Korea—one for each weekday. The ambiance is equally charming, with modern decor and a warm atmosphere that complements the culinary experience. Additionally, Kuaizi Sabor Oriental offers customers the opportunity to explore a small Asian grocery store where authentic products from the countries represented on the menu can be found.
Gastronomy Enchants the Olivais Neighborhood
These restaurants add color and flavor to the Olivais Neighborhood, and their proximity to Parque das Nações is reflected in the short 5-minute distance. Come try these restaurants and experience life in Olivais.
Life in the Olivais Neighborhood is characterized by its peaceful lifestyle and strong sense of community. Residents enjoy excellent accessibility to essential amenities, such as efficient public transport connecting the area to the city center, quality schools, and healthcare facilities, including nearby hospitals and health centers. All of this contributes to making the Olivais Neighborhood an ideal place to settle down, whether you are living alone or with your family.